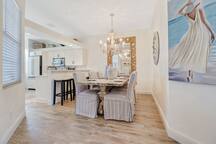 If you're an Airbnb host trying to stand out from the competition, the best way to achieve that is to position yourself as a niche property. Some are party properties, others are ideal for families, and others aim to cater to guests who are looking for a luxurious experience.
If that's you, then don't worry; a full overhaul may not be necessary. There are certain simple upgrades you can make to ensure that the aspects that matter to guests are impressive, comfortable and luxurious. Your aim is to go above and beyond to anticipate, fulfill, and cater to your guests' high standards. Here are a few simple upgrades you can make.
1. Invest in their sleep
One of the things most guests note– and rate! – whether they are weekenders or long-haulers, is the quality of their night's sleep. Nothing makes a bigger difference and gives a bigger sense of luxury than ensuring that your guests have the best night's sleep of their lives.
For that, you have to make some simple upfront investments. Let's start with the most important part: the mattress. Traditional wisdom says that, like shoes, the mattress is always something you want to invest in, because you spend 8 hours sleeping on it every single night. Shop around for a high-end, quality mattress that is comfortable and supportive. It's always worth the price.
And to top off the perfectly comfortable bed, opt for some high-end bedding – Egyptian cotton is top of the line when it comes to bedding, the higher the thread density, the better. Add some down pillows, and you're almost there. You really want to create that feeling of sleeping on a cloud.
2. Supply high-quality food
What else are guests grateful for? Truly excellent food. Putting some Snickers bars at their disposal in case they get up for a midnight snack is great if you're an Uber driver, but for a luxury Airbnb, more is expected.
Your best bet is to drop by Whole Foods or an equivalent shop and stock up on some quality basics – some granola bars, muesli, organic cereal, rice, pasta, soy milk, and anything else that's good to have, but has a longer shelf life. That will be great for moments like breakfast or a quick bite to eat in the evening or between meals, the guests will be grateful to have healthy, tasty snacks.
Go the extra mile and stock the bar with some chilled wine, champagne, and some quality liquor. Give your guests something to celebrate with or sprinkle on top of an already perfect night.
You also want to make sure you're supplying them with everything they need to enjoy a cup of coffee in the morning, or tea. Equipping your kitchen with a high-end coffee machine and a selection of pods, as well as some popular tea flavors, shows your guests that you care about making their experience as seamless and as comfortable as possible.
3. Make some smart tech upgrades
Let's talk amenities – to create the most comfortable, convenient, and modern abode, you have to create a sense of luxury. And believe it or not, you can do that even with the most mundane amenities, like lighting or heating.
Upgrading selected devices in your property to smart versions not only makes financial sense, but it also adds to the comfort of your guests' stay. High-speed internet is a non-negotiable for any Airbnb, and as of late, so is a smart assistant like Alexa.
But take it a bit further – why walk to the thermostat to fuss with it, when they can control it from the comfort of their bed? All they need is their phone. Lighting that you can dim or brighten with one tap or program to adjust automatically depending on the time of day is another detail that can take your property from "nice" to "luxurious". It's all about the mood you set.
4. Ensure their entertainment
Your guests will want to kick back and relax, especially in the evening, before bed. Make the experience pleasant and convenient by giving them access to a selection of streaming platforms on your big screen, smart TV. Netflix, Amazon, Hulu, Disney+ are popular choices that most guests will appreciate.
This demonstrates an attention to detail that few Airbnb owners have, and it's one of those small luxuries one is happy to indulge in after a long way of sight-seeing, for example. All they need to do is turn on the TV, pick a platform, and stream their favorites on the big screen.
If you really want to go that extra mile, make sure that you have screens in various parts of the home – in the living room, in the bedroom, in the kitchen, and even in the bathroom. Imagine lounging in a bubble bath, watching a movie. A little decadent, but that's what your guests are paying for.
5. Turn your bathroom into a spa
It's often the kitchen and the bathroom that sells a house – or rents it, in this case. Guests want their bathroom to be in tip-top shape, and that doesn't just mean that it should be spotless. That goes without saying.
To create a truly luxurious bathroom experience, you must think about every aspect of the bathroom as a sanctuary, and a place where one goes to relax. If you want to compete with hotels, you have to include a large double vanity with his and hers sinks and a generous mirror.
On the side, supply a selection of high-end products – skincare, makeup remover, soap, shower gel, body lotion, shampoo, hair conditioner, shaving cream, moisturizer, perfume samples – anticipate what one might need or want in a bathroom.
When it comes to the shower and bathtub, be ready to upgrade. Sauna showers are big crowd pleasers, but so are jacuzzi baths. Few things say "luxury" like a relaxing jacuzzi at the end of the day.
Add finishing touches like matching towels, tasteful artwork, and plants that love moisture. It will feel less like a bathroom and more akin to a spa, and that's the effect you want.
6. Matching flatware & cutlery
Sometimes, it comes down to details and presentation. Little design elements or things you didn't think matter can make all the difference. Your guests want that high-end, luxurious dining experience, so make some quick, simple changes, like making sure all your flatware matches.
What that does is it gives your property a cohesive, intentional, well-designed look. Guests will feel like you really took care and made some thoughtful decisions when it comes to presentation and the quality of the experience, in order to impress them. No one wants to eat off of mismatched plates and dull cutlery. Sell them the fantasy they are here for.
Final thoughts
Competition is stiff among short-term rental properties like Airbnbs, and if you want yours to stand out, it helps to invest in certain aspects that help make the experience more enjoyable. If you want to brand it as a luxury stay, then all you have to do is provide some luxurious features for your guests.
From an upgraded kitchen to a comfortable bedroom and a bathroom that offers a spa-like experience, it's all about the little details and anticipating your guests' needs and wants in a 5-star Airbnb experience that would rival a 5-star hotel stay.