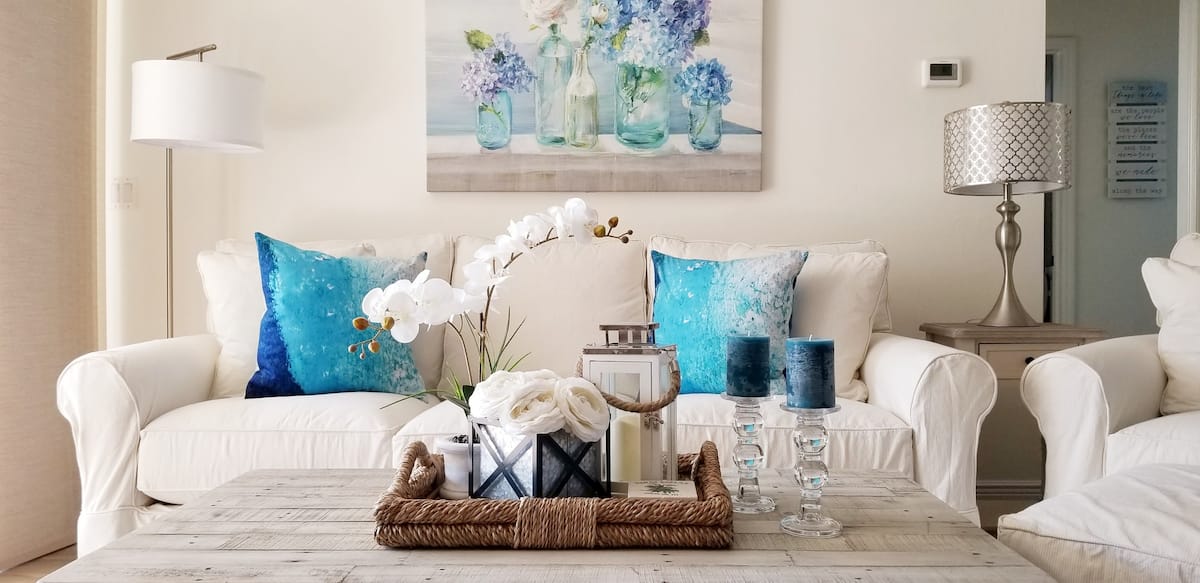 For Airbnb hosts, digital nomads are an extra-special type of guest. Typically tech-savvy travelers with plenty of AirBnb experience, digital nomads will come for extended stays and leave your rental in good condition. Plus, digital nomad reviews are some of the most valuable.
When they settle into a place, these millennials really get to know it, inside and out. So any details that make your listing stand out as an ideal base from which to explore a new area- while staying on top of the remote work schedule- will be vital to attracting these enthusiastic globe-trotters.
Let's take a look at the top tips for attracting digital nomads to your AirBnb listing.
1. Long Stay Amenities
The typical difference between your average holidaymaker and a digital nomad is that when digital nomads travel, they land for an extended time period. Make sure your rental is set up with all the amenities that any world traveler will need to nest into a temporary home.
Does your space have a kitchen? It should. Digital nomads look for even basic kitchen setups in their landing pad, so if your listing doesn't already have a kitchen, you should consider investing in some cooking gadgets. A simple electric stovetop, toaster oven, and mini fridge won't break the bank for you, but they might make all the difference between yours and another similar listing. Go the extra mile and include basic cooking supplies like oil, salt and pepper, coffee, sugar, and tea- and if you want those five-star ratings, provide other supplies, like cooking knives, graters, and a nonstick or cast-iron skillet.
Most digital nomads are extremely experienced in sifting through hundreds of possible AirBnb rentals. One thing you will want to keep in mind are long term discounts. By offering an enticing discount on monthlong stays- or longer- you are guaranteeing a tenant in your Airbnb rental for the long haul. And with one consistent visitor, you will have less cleanup and coordination to think about.
2. Remote Work Ready
What defines a digital nomad is the ability not just to travel to exotic locations, but to live and work remotely. A digital nomad takes their work everywhere they go, so having high speed internet available at your rental location is of paramount importance. High speed internet is often the first thing these travelers will look for when assessing a possible Airbnb, as their entire lifestyle is dependent on having a strong Wi-fi connection.
Your rental Wi-fi should be up to speed for a wide variety of remote work-related tasks: blogging, posting content, sharing videos, downloading work briefs, overseas video chats, eCommerce transactions, and more. If your Wi-fi speed is lagging, you may need to switch providers or install a new Wi-fi router to create an ideal, high-speed hotspot for your work from home guests- wherever home may be at the time.
While the internet is essential for remote work, a work ready Airbnb rental will also include a designated workspace. Some hosts try to get away with simply photographing a tiny table with a flimsy chair or stool. But for drawing in seasoned digital nomads, the more thoughtfully you can arrange a designated workspace, the better.
Choose a sturdy, ergonomically friendly chair suitable for long hours facing the screen. Incorporate standout furniture items into the workspace, like an antique writing desk or vintage lamp. Offer considerate lighting options designed to aid with productivity and focus, and, if possible, place the whole dedicated work setup near a window with a view. You want your listing's workspace to be not only practical but inspiring.
3. Thoughtful Touches
From among hundreds of listings, the design and decoration of your space is what will really make it stand out. While you don't want to clutter the space with too many personal items, incorporating a consistent design theme with a few personal touches will show your renter that you have put time and care into curating a space that will be inspiring and comfortable to live in.
Think about how you use color in your space. Painting the walls with bright, bold colors can help your space stand out from other similar listings- and offering one signature decorated wall creates an Instagrammable frame that can encourage renters to spread the word about your space.
Include inspiring books and other thoughtful touches that can help your renters settle in for an extended stay. Art and design books are always a good choice- and look nice on your bookshelf. History and culture books that provide further insight into the local area are also a great idea- and can help introduce your renters to the place they have chosen to live for awhile.
4. Local Guides
One of the main motivating factors for digital nomads is that they don't want a simple introduction to the place they are choosing to live. They want to take the time to delve in and get to know the local area. As their AirBnb host, you are their first resource- and it's not difficult to go the extra mile when compiling your guide to the area.
Think about the places that you love to visit- the best local coffeeshop, the most happening bar, the trendiest restaurant. Those will be important resources for a longterm visitor who has just arrived. Add resources geared towards the needs of a remote worker, like quiet coffeeshops with work desks and fast Wi-fi, co-working spaces near your listing, and local printing and office supply shops. Your average guest may not need to print documents or ship packages, but for your digital nomad, the thoughtful addition will be greatly appreciated- and is often one of the top mentions in your listing's reviews.
Include plenty of nice walking routes, as many digital nomads prefer to get to know a city by foot. And good remote workers know that taking a break to stroll through nature can have benefits for afternoon focus and productivity.
A Warm Welcome
The most important thing to keep in mind when arranging a space that can attract digital nomads is to create a listing that looks clean, warm, welcoming, and inviting. Good reviews from longterm guests lead to more longterm guests- which is the best way to let your property work for you. So go the extra mile with thoughtful additions. You want your guest to feel like like they are at a place they can call home.