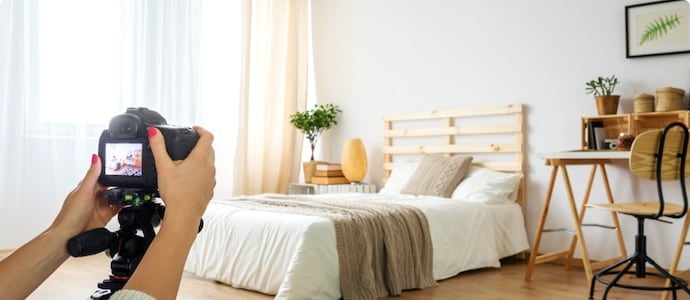 Pictures say so much more than words. Especially with first impressions online. People make snap decisions within seconds. The first thing visitors to see when searching for their perfect Airbnb accommodation is your listing's photo, followed by the title, the price and the review ratings. You want your potential guests to feel that tingle of excitement when they see the main listing photo and feel in their gut that they have found their vacation spot. You want them to click and read more and book your Airbnb property with confidence.
Use a professional photographer if possible – it makes a huge difference! Airbnb even offers professional photography services, but you will need to check if your location is covered. Airbnb will need to know that you are serious about hosting and usually only works with hosts who have a few confirmed bookings. Having Airbnb verified photos will likely help improve your listing position and give you a jump up the search algorithm since Airbnb can confirm your space looks exactly like the photos that are presented. Find out more here.
But if you are confident in your photography skills, put some careful thought into it. You wouldn't take a selfie without thinking about your 'best side', right? These photos are directly linked to your potential rental income and need to capture attention and do the heavy lifting for you when it comes to marketing. Choose at least 15 of your best shots and include variety. Tell the story of your property and the experience it offers.
Showcase your property and highlight its best assets - guests love to stay somewhere with character. Do you have an incredible view? Does the property have beautiful architecture? Do you have an amazing outside space? Is your street picturesque or unusual? Do you have some unique pieces of furniture? Does your bathroom have a luxurious tub and include soft fluffy towels? Do you provide a welcome gift? Photograph it.
Lighting – make the most of natural light, or if your property doesn't have great natural light, use great lamps and lighting to ensure it looks bright and inviting. Dark and dingy will not sell.
Whilst you obviously want to show the best bits, you also want to give a realistic overview of the property. Managing expectations is key if you want to maintain top-notch reviews. Take some time to set the scene and make sure what you photograph what guests will find when they arrive. You are hoping for guests with integrity who will look after your property. Make sure that integrity starts with you.
Think about the market you are hoping to appeal to. Families will want to see a well equipped kitchen and lots of space for play and luggage. Business people will most likely look for calm and relaxing space to wind down in after a busy day. Couples may look for comfortable looking beds and cosy sofas to chill out on.
And finally, a couple of technical tips. Take your photos in landscape format as this is how they are displayed on the listing. Photo resolution is important. Ensure you take photos that are at least 1024px by 683px, or higher if possible. And if using a cellphone, make sure your lens is clean, it's amazing the difference it makes!